Braunvieh Standards of Excellence

The Braunvieh is:
A medium to large frame dual purpose breed, which was developed for meat and dairy production in a 60:40 ratio.
As a result of its origin being in the Alps, it is a breed with a higher red blood count than other breeds making it easily adaptable to a variety of circumstances from extremely cold to extremely hot conditions worldwide.
A breed with a good walking ability, strong legs and deep dark hooves.
A breed with a good pigment, a well-adjusted hide which loses hair in summer and thickens in winter to ensure that the body temperature stays as constant as possible.
A breed with a calm temperament which is well adjusted and performs exceedingly well in a feedlot.
A fertile breed with a long producing lifespan. Cows of 12 years and older still produces annually.
A breed with an above average milk production, good udders and teats that ensure that calves grow up fast with above average weaned weight.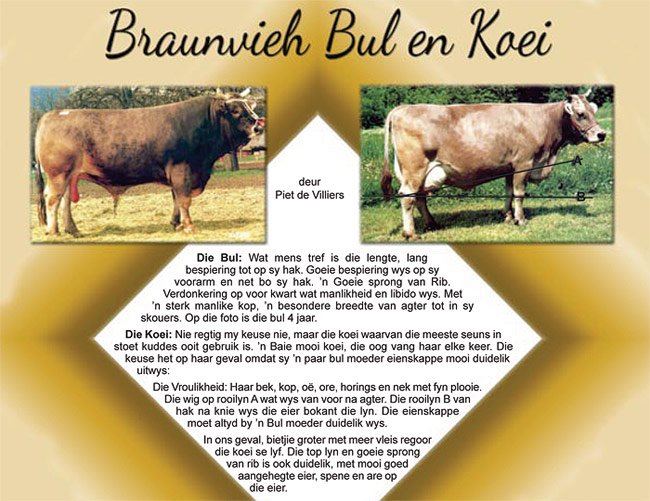 STANDARD OF EXCELLENCE OF THE BRAUNVIEH S.A.
1. GENERAL APPEARANCE
Large well balanced, intelligent, mobile and docile with sufficient length and depth. Strong legs of medium length. Good sexual characteristics. The animal must show signs of strength, symmetry and balance with harmonious, blending of all parts. Good health with signs of a high production potential for beef and milk and longevity.
1.1 BULLS
Masculine, strong and robust with well defined muscles on shoulders, back loins and thighs. Well developed crest with a masculine appearance. Coarser of hide, hair and bone that the female and with a better developed forequarter.
1.2 FEMALES
Finer than the bull in all aspects. Good muscling but with smoother appearance than the bull. When in production muscling must be less visible and the framework more clearly defined. When viewed from the side, the hindquarter must appear deeper than the forequarter a slight wedge from giving a typical feminine appearance. Udder well developed, soft and supple with well-spaced teats of adequate size. Bone structure relatively fine but strong and durable. Uneven fat deposits on the body are considered very undesirable.The bull must be strong, robust and masculine while the female shows a retined feminine carriage.
2. HEAD
2.1 BULLS
Relative short and broad between the eyes, with a general manly force, but calm expression. Horns not recommended.

2.2 FEMALES
Absolutely feminine with an alert but docile expression.
(i) MUZZLE
Broad and strong with large open nostrils.
(ii) JAWS
Broad and strong with teeth fitting well against the pad of the upper jaw.
(iii) EYES
Large and bright.
(iv) EARS
Of average size and carried alert with light hair inside and on the sides.
(v) FOREHEAD
Broad and slightly dished between the eyes.
(Vi) NASAL BONE
Broad, straight and strong.

3. NECK
3.1 BULLS
Shortish, with a strong, well muscled, masculine crest.
3.2 FEMALES
Flat, of medium length with a neat feminine appearance.

4. SHOULDERS
Shoulder blades well attached. Muscle and ligament attachments from shoulder to chest, withers, neck and ribs must be strong and firm. Good width between shoulder points but these are not to be prominent but well rounded over the withers.
4.1 BULLS
Broad, full and well muscled. An apparent drop behind the shoulders (the crops) as a result of good width between the shoulder points not to be discriminated against.
4.2 FEMALES
Relatively broad with good but smooth muscling. The female to be more refined in the shoulder than the bull.

5. CENTERPIECE
5.1 BARREL
Long, broad and deep with good capacity.
5.2 RIBS
High and widely sprung. Ribs wide apart, broad and long.

6. BACK AND LOINS
6.1 BULLS
Back and loins long, broad and strong. Muscling to be continuously broad, thick and' well defined from the loins to the shoulders. Loins level with back and rump.
6.2 FEMALES
Back and loins long, broad and strong. Muscling to be continuously broad, but smooth from loins to shoulders.. The thickness and prominence of muscles as in the bull must not be evident. The female should display a smoother more supple and refined muscling on these parts.

7. RUMP, HIPS THURLS AND PINBONES
7.1 RUMP
Rump long, broad and well muscled with a slight drop from the hip-bones to the pinbones. A slight roofy appearance is required on the rump.
7.2 HIPS
Well placed. In the case of the bull the hipbones must not be as prominent and wide apart as in the female. Fat deposits on the hips considered very undesirable.
7.3 THURLS
Slightly lower than hip-bones and wide apart.
7.4 PINBONE
A good width is required between pinbones. Loose fat deposits on pinbones of producing cows undesirable.

8. THIGHS
8.1 BULLS
Well muscled, thick, full and deep on the outer and the inner thighs as well as behind.
8.2 FEMALES
Well muscled, but not as thick and prominent as in the bull. Inner and outer thighs relatively full.

9. LEGS, HOCKS, PASTERNS AND HOOVES, STANCE AND STRIDE
9.1 LEGS
Forelegs of medium length, straight, wide apart and squarely placed. Hind legs, when viewed from the side must not be sickle-or straight" hocked. Viewed from behind the hind legs must be straight with good' space between the hocks. Bone structure flat, dry and strong.
9.2 HOCKS
Broad and strong, but at the same time dry and relatively refined. Hocks, must not appear thick or fleshy.
9.3 PASTERN AND HOOVES
Pasterns short, strong and elastic. Pasterns appearing too straight and stiff and not firm enough are undesirable. Hooves short, round and compact. Hooves must touch the ground squarely, must be deeper behind and flat on the sole.
9.4 STANCE AND STRIDE
The animal must stand squarely and be able to move with a free and easy stride.

10. SKIN, HAIR, BONE AND COLOUR
10.1 SKIN
Loose, supple and thick with sufficient pigment.
10.2 HAIR
Short, thick, soft and glossy.
10.3 BONE
A dry, flat and durable bone structure is required. Coarse, heavy bone with thick fleshy knee and hock joints undesirable. An extremely refined bone structure is also undesirable.
10.4 COLOUR
Completely brown, may vary from light to dark brown. White only permissibleon underline. White patches especially without pigment of the skin on other parts of body not allowed.

11. UDDER, MILK VEINS AND TEATS
11.1 UDDER
Long wide, deep, not pendulous, firmly attached: to body, extending well up behind and far forward. Quarters even covered with fine, silky hair and well veined. Too much hair on udder and teats undesirable.
11.2 MILK VEINS
Large and branched.
11.3 TEATS
Fairly long and of good size, straight and squarely placed.

12. SEXUAL ORGANS
12.1 BULLS
Well developed and normal in all respects.
12.2 FEMALES
Well developed and without external evidence of infantilism or malformation.

13. WEIGHT FOR AGE
It is essential that animals maintain a good weight for age.

14. UNDESIRABLE CHARACTERISTICS
a. Bad temperament.
b. Woolly coats.
c. Too long or short legged.
d. Too coarse or fine bone structure.
e. Weak pasterns; sickle-, straight- or cow hocks; small hooves.
f. Teats too big or too small, fleshy, hairy or badly attached udder.
g. Unbalanced udder.
h. Scrotum too small or too big.
i. Uneven distribution of fat over body; prominent briskets.
j. Broad, feminine hips in bulls.
k. Females appearing deep in the forequarter and light in the hindquarter.
l. Short bodied; slack or hollow back.
m. Slack in loins.
n. Bulls with flat ribs and showing little depths.
o. Sagging rump.
p. Lack of pigment.
q. Pony type.

15. DISQUALIFICATIONS
Animals to be disqualified if any undesirable characteristics are present to an extreme degree, also for congenital defects found in cattle, for example:
a. Hernia.
b. Cryptorchism.
c. Skew nose.
d. Crooked tail (congenital).
e. Malformed sexual organs.
f. Skew face.
g. Overshot or undershot jaws.
h. Straight-, sickle- or cow hocks.
i. Teats grown together.
j. Infantilism of external genitals in bulls and cows.
k. Any signs of sub-fertility or lack of functional efficiency.
l. White on other parts of body on females is a disqualification, except where it appears in the immediate vicinity of the underline when the inspector may use his discretion.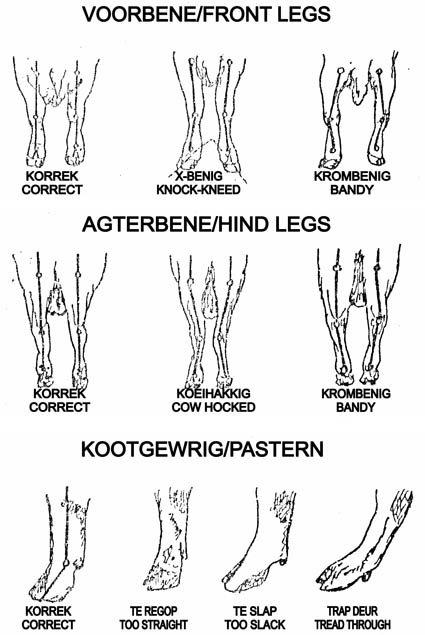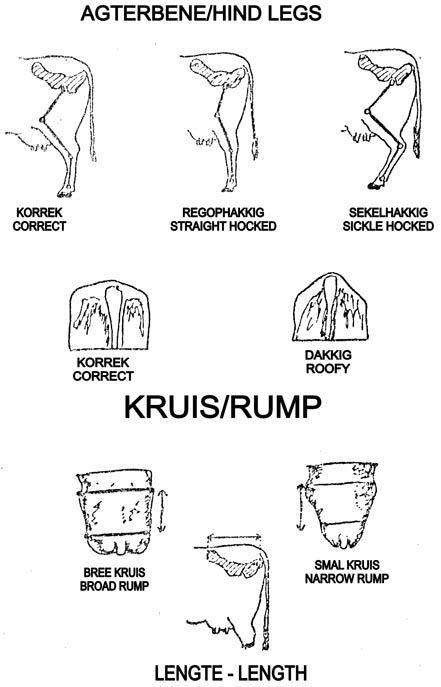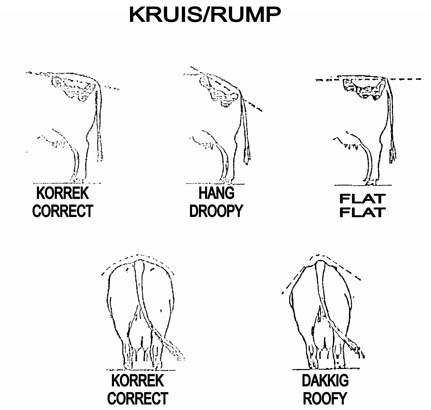 The "droopy" and "roofy" rumps don't occur too often and are not under discussion here. However, discrimination against animals with a flat, level or square rump plays an important role in our breeding aim. Why do we discriminate against this? Calving ease is, next to fertility, the most important aspect in countries where extensive farming conditions prevail. Cows must calve "outside in the bush" and you only see the calf when it is a few days old. There is a lot of causes for calving difficulty or "dystocia" and we maintain that one of the factors is squareness of rump. Why? If we look at Zebu types and antelopes, all known for their calving ease, we find a sloping rump where the pin bones are lower that the hipbones. (Mc Farlane, 1976) describes this as follows: "When one selects for high pin bones, the whole of the pelvis girdle is actually being rotated about the thurl (the region between the pin bone and the hip joint) in an upward and backward direction. Now if you will look at the classic outline from the side of the animal – and think about it very carefully – it will become evident that, as you raise the pin bones at the rear of the hindquarters, you automatically narrow the vertical opening that the cow has for calving – you lessen the distance between the pelvic floor and the base of the tail. This is one of the prime factors in dystocia which has led to considerable problems in a number of breeds." (Maree, 1983), an Animal Scientist and Vet states: "The sacrum in Zebu breeds slope more than in most European beef breeds and in especially the Friesland. Squareness of the rump is due to a more horizontal setting of the sacrum so that the root of the tail is as high as the ilco-sacral attachment. This raises the pin bones and consequently the hips. Over many generations most European beef breeds and particularly the Friensland, have been selected for these features. In Zebu the sacrum and pins and hips have been allowed to slope. The pelvic outlet consequently moved downwards with lengthening of the ischio-sacral ligaments. The potential of the sacrum and lleo-sacral attachments to allow movement during labour, is therefore considerably enhanced, which is a most important factor in case of calving. A sloping rump allows for a wider opening of the pelvic outlet at calving. Lowered pin bones and a lower position of the thurls, enlarge the pelvic outlet and facilitate calving." Mr Louis Peens, a student from the University of Pretoria, took the pelvic measurements on the following sketch from 627 Friesland cows (11 herds) with a dystocia record and investigated the association between these measurements with the dystocia records of the cows. He found the following: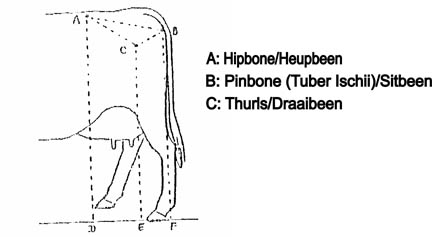 Dyslocia
1. Slope of the line A to B = 7° - 12° (flat) ..................................45%
Slope of the line A to B = 20° - 24° (not flat) ................................12%
2. Angle of the line A-B and B-C smaller than 15° ..............................56%
Angle of the line A-B and B-C larger than 25° ..................................19%
3. Difference in height between A-D and C-E less than 14cm .....................49%
Difference in height between A-D and C-E more than 19cm ........................19%

From the meat production point of view some believe that squarely rumped cattle are better muscled than those with a sloping rump. (Harmse, 1976) and (Butterfield, 1977) proved very clearly that this is not the case. Another interesting aspect we found is that a square rump is normally associated with straight hocks or post leggedness.
Butterfield, R (1977) What is a meat animal? Beef Cattle Science Handbook, Vol. 11:77, Agriservices Foundation, California. Harmse, J (1976) Unpublished data M.Sc. (Agric) thesis, University of Pretoria. Maree, C (1983) University of Pretoria, South Africa. Personal communication.